Installation—

Home Movies
Curated by Mark Williams
Assistant Curator Laura Duffy



For one-day only, a New Zealand art trail in Newtown. 28 video works in 22 shops, businesses and cultural spaces.
Home Movies
was a one-day video art trail that took place in Newtown, Wellington, New Zealand on Saturday 28 September 2019. Inserting 28 artists into 22 shops, businesses and cultural spaces,
Home Movies
invited visitors to pick up a map from the local library and explore Newtown as a supportive space for minority communities, ethically-driven commerce and artistic production.
Taking place against a backdrop of Newtown's rising housing costs and gentrification, the event sought to raise questions around how we imagine our communities in the future.
Home Movies
was curated by Mark Williams with Assistant Curator Laura Duffy and presented as part of AURA Festival of Artist Moving Images with the support of Creative New Zealand.
Home Movies was made possible with the generous support of The Tip Shop, Habitat for Humanity, MEANWHILE, Kia Ora Newtown, Newtown Community Centre, Jared Corston, Martin Hanley, all participating venues, Opportunity for Animals, Newtown Library.Scroll down for documentation from the event.
Click here to view the map & list of works!
Sat 28 Sept.
10am—4.30pm
Various venues
Free Admission

Featuring works by:

Gabrielle Amodeo
Arapeta Ashton
Lucy Aukafolau
Denise Batchelor
Louisa Beatty
Anna Briner
MD Brown
Wai Ching Chan
Madeline Cheng
Laura Duffy
Max Fleury
Bryce Galloway
Nathaniel Gordon-Stables
Sam Hamilton
Chevron Hassett
Mike Heynes
Caroline Johnston
Lara Lindsay-Parker
Raewyn Martyn
Pippy McClenaghan
Louie Neale
Elisabeth Pointon
Christina Read
Emiko Sheehan
Erika Sklenars
Terry Urbahn
Peter Wareing
Aliyah Winter
Documentation:
1. Newtown Community Centre

cnr Colombo and Rintoul St
Not Everybody Can Do Everything (1996-2010)—Peter Wareing
Filmed over 14 years (1996-2009),
Not Everybody Can Do Everything
is an intimate portrait of three residents of Joselow House in Manhattans Upper West Side, a residential home for people with severely visual impairment and developmental disabilities. Shot by New Zealander Peter Wareing, this work was presented as a cinema screeing in the Newtown Community Centre, a venue hosting a pop-up soup kitchen, tool library, yoga and other community activities.

2. Black Coffee


133 Riddiford Street
Songs about PLEASE REMOVE (2010) —Caroline Johnston
To the sound of Brazilian Vuvuzela horns, a pair of hands sift through a crate of 12" records with the practiced movement of a collector. Black Coffee is a cafe, record store and occasional venue for bands as part of the annual Newtown Festival. Photo by CIRCUIT.


3. Aunty Danas
 Op Shop
130 Riddiford Street
Untitled (2014)—Aliyah Winter
In
Untitled
, Aliyah Winter queers her family histories by re-inserting herself within her own photographic family history. Aunty Danas Op Shop is run by Gender Minorities Aotearoa. The shop is named after Dana De Milo, a much loved and prominent figure who fought for LGBTQIA+ rights. Photo by Jacob Giles.
4. Book Hound
132 Riddiford St
Mustache (2011)—Rachel O'Neill
Episode 2 from the web series
with sympathy
(2012), an absurdist set of improvisations that follow the trials and tribulations of an heiress to a greeting card empire. Book Hound is a 2nd hand bookstore run by novelist Annaleese Jochems. Photo by Jacob Giles.
5. John Castle Chemist
139 Riddiford St
Just Breathe (2013)—Denise Batchelor
Sitting ironically above a packet of No-Doz pills, Denise Batchelor's portrait of a sleeping porcupine suggests a meditative route towards wellness.
John Castle Chemist opened in Newtown in 1888. Since 2013 it has been run by Shahlaa Al Salih and sells "a wide range of cosmetics and beauty products, wigs, dietary supplements, passport photos and pharmaceutical services." Photo by Jacob Giles.
6. Rachnas Jewellery and Fashionware
140 Riddiford St
Running in the Starlight (2011) —Candice Stock


Running in the Starlight
is a celebration of clothing and colour as ways to define the self. The work is made bittersweet by the artists colour blindness. Established in New Zealand since 1988, Rachna's offer "wide varieties of Eastern-origin products to New Zealanders for a special occasion, a Bollywood party, or just for casual wear". Photo by Jacob Giles.
6. Book Haven
160 Riddiford St
Books I'd like to read (2005) —Christina Read
"I made this scrolling book list video in 2005; it was a list of books I wanted to read (still do)" – Artist Statement. Book Hound is an independent book shop with a "strong interest in NZ non fiction, pop science, history and great cook books." Photo by Jacob Giles.
8. Opportunity for Animals


162 Riddiford Street
Threads Through Wardrobes (2019) —Louie Neale
"(Opshops) are places where the community comes to buy and donate domestic items that are used to build individual and collective identities ... I aim to subvert the logics placed on people's bodies today such as gender and movement norms" Commissioned by CIRCUIT for AURA, Louie Neale's performance took place in Opportunity for Animals, a charity store dedicated to animal rights. Photo by Jacob Giles.
Vacant Speechless Mosh (1998-2005) —Terry Urbahn
Three videos by former Wellington artist Terry Urbahn exploring gentrification, punk imagery and waste. These works were sited in Opportunity for Animals, a charity store that has also been a temporary home for The Anarchist Bookshop. Photo by CIRCUIT.
Popsicle (2011)—Erica Sklenars
"This work was filmed in the bedroom of a flat in Newtown, inspired after a conversation at a winter party discussing my armpit as the warmest place on my body to warm up a frozen hand." – Artist Statement.


9. MOON

167 Riddiford Street
Falling Out (2004)—MD Brown

Falling Out
is a personal, fragmentary recollection of a murky set of events distorted by the passage of time. Made by Newtown film-maker MD Brown in 2004,
Falling Out
showed in competition at the prestigious Oberhausen Short Film Festival, Germany. One of the lead actors, Julian Taylor (pictured above), is now bar manager at MOON and was present for this screening. Photo by CIRCUIT.
Untitled (Hair Transposal Video)(2011) —Bryce Galloway
In
Untitled
Galloway exploits his own baldness to poke fun at social vanities and the cult of appearances/cult of youth. This video showed in the front window of the bar MOON, a venue for local and touring music acts.
10. Chans Eatery

170 Riddiford Street
凤凰酒家 (Golden Phoenix) (2018) —Madelin Cheng 

In
凤凰酒家 (Golden Phoenix)
the artist
blurs time, memory and histories by romanticising a past learnt from movies. Madelin is interested in celebrating an "emerging type of cultural hybrid" between Chinese and Aotearoa cultures. Chan's Eatery opened in 2018. "We sell a range of Malaysian, Thai and Chinese cooking. Our packaging/containers are biodegradable!" Photo by CIRCUIT.
11. CREEPS

2 Wilson Street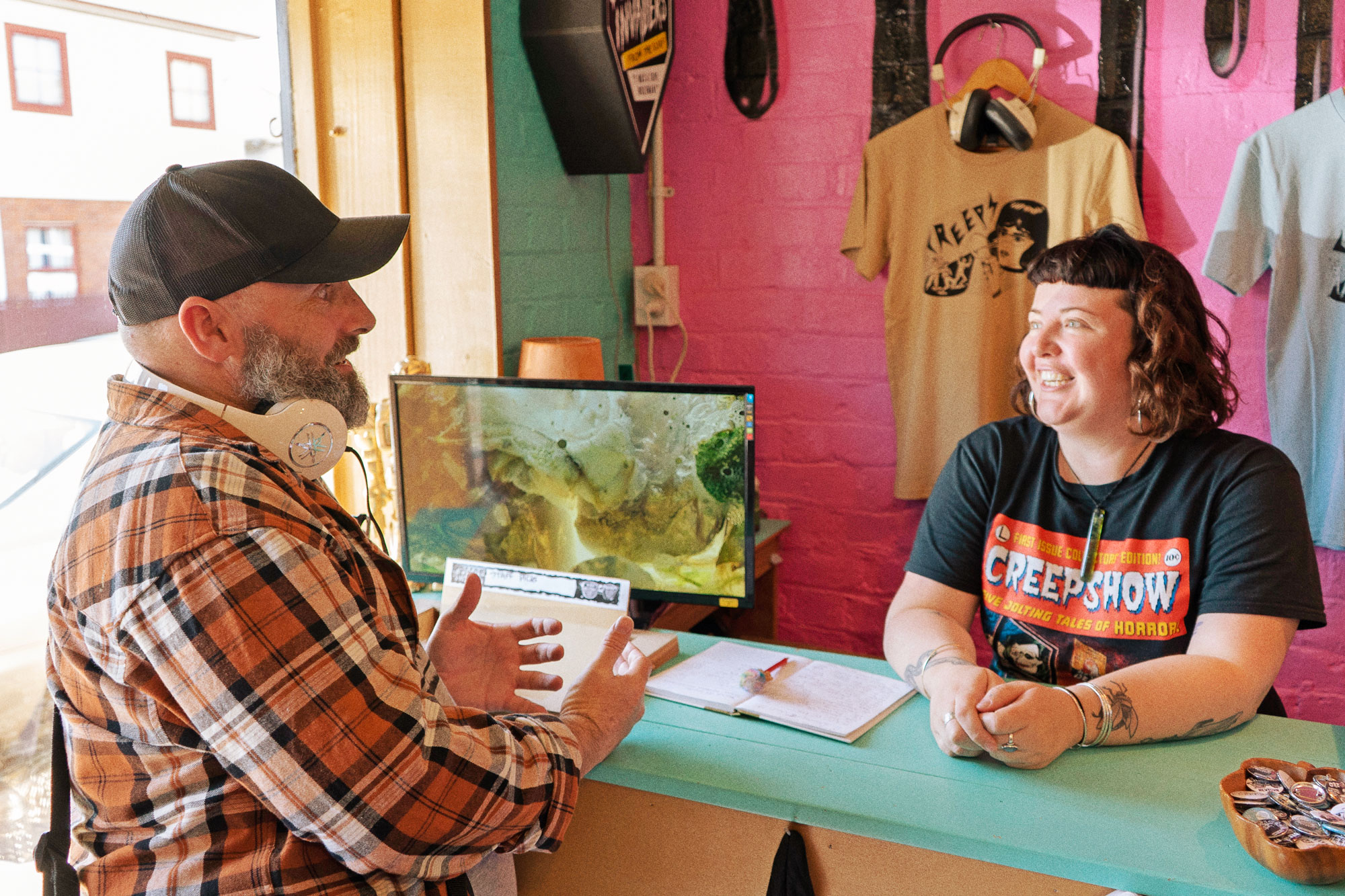 I am the coming together and the falling apart (2018)—Laura Duffy
Laura Duffy's painterly video works evoke a visceral reaction by blurring repulsion and desire. The work is critical of western thought binaries and invisible ideologies which have been inherited from Christianity. CREEPS held their grand opening on the same day as
Home Movies
and describe themselves as "your weirdo record store emporium." Photo by Jacob Giles.
12. Kia Ora Newtown

6 Constable St
Into the arms of my colonizer (2016) —Chris Ulutupu


Chris Ulutupu's work explores the cultural collision of Pasifika heritage and Western pop culture. "When discussing identity politics I hold very little anxieties about where I am from, I am too busy trying construct who I want to be" – Artist Statement. Located at 6 Constable St, Kia Ora Newtown is a City Council-sponsored project space designed to engage with the community on 'projects which affect their neighbourhood'. Photo by CIRCUIT.
13. Newtown Public Library

13 Constable Street
Invisible Territories (2013) —Lucy Aukafolau

Invisible Territories
(2013) is comprised of footage taken during Aukafolau's first trip to Tonga with her father and uncle to their homeland in 'O'ua Ha'apai
.
This work was installed at the Newtown Library, a multi-functional community space. Newtown has historically been a destination for Pacific families in Wellington, and was home to the Pacific Island Network Centre. Photo by Jacob Giles.
14. Peoples Coffee

12 Constable St
A Guide To: Effective Implementation of Self-service (2017) —Elisabeth Pointon

A Guide To: Effective Implementation of Self-Service
functions as a guided Meditation and the gift of a mindful break to the 9-5 workers in the luxury car dealership where Pointon works. Elisabeth's video work is displayed inside one of the artists' beloved local cafes People's Coffee, which uses fair trade suppliers to source their beans. Photo by Jacob Giles.
15. Plumbers Supreme

28 Constable St
In the Shadow of Wellywood (2019) group show with Mike Heynes, Max Fleury and Anna Brimer, Pippy McClenaghan.

The image above shows the former Rinnai Plumbing Showroom which was home to a group show of 3 works by four artists, each of whom extracted maximum use from commercial cast-offs. Photo by CIRCUIT.
Above: Group photo - In the Shadow of Wellywood (2019) Mike Heynes, Max Fleury and Anna Brimer, Pippy McClenaghan.
Plumbing Showroom Work 1:
In the Shadow of Wellywood (2019) —Mike Heynes

Mike Heynes' installation
In the Shadow of Wellywood
lent it's title also to the group show. Heynes work invited the viewer to watch an animated tour of Hollywood studios, led by action figures recovered from the bins of Newtown charity shops. Heynes presented the work as micro-cinema installation. Photo by Jacob Giles.
Plumbing Showroom Work 2:
Glory (2019)—Max Fleury and Anna Brimer

One of three performance works in
Home Movies
commissioned by CIRCUIT as a response to Newtown itself,
Glory
was made using material drawn from local charity shops and a tap outside the public toilets. Photo by Jacob Giles.
Plumbing Showroom Work 3:
Simple Pleasures (2019)—Pippy McClenaghan

Simple Pleasures
features three sculptural works inspired by hand-painted advertising from the pre-digital age, including the iconic sandwich from the Vietnamese Bakery, which like the venue was also located on Constable St. Sitting at the intersection of craft and commerce, the three works sit somewhere between a lament for the loss of small shops, the hand-made and an odd example of folk art. Photo by Jacob Giles.
16. Splendid

74 Constable Street
Kia Kaha Chichai Gaijin (2018) —Emiko Sheehan

"Part of me fantasises about being free of identity, all zen and able to let go be one with the universe, but it's hard to let go of identity when you never really had a grasp on it in the first place. This astronesian/space Maori/alien-asian is travelling through the cosmos learning how (not) to be Maori or Japanese, both and neither … this is how you do it, right?" - Artist Statement. Splendid is a photoshop specialising in Analogue Photography. Photo by CIRCUIT.

17. Good Boy Sandwiches

181 Riddiford Street
Little Boy Blue (2008)—Gabrielle Amodeo



For more than 50 years, New Zealand kitchen tables have been graced with Cerebos Iodised Table Salt and its invitation to "See how it runs". Gabrielle Amodeo's animation accepted the invitation. This work was selected for Good Boy Sandwiches by co-owner Al, who also catered the CIRCUIT Symposium with a "sumac salt pepper tofu sandwich with harissa, pea and mint tabouleh, vegan mayo, rocket and avocado". $10 per head, free delivery. Photo by Jacob Giles.
18. Technofix


185 Riddiford Street
Star Crossed (2017)—Lara Lindsay Parker
"I cannot exist without you…you have absorbed me…you have ravished me away by a power I cannot resist".
In
Star Crossed
the artist repurposed John Keats' 1819 love letter to Fanny Brawne as a comment on 21st century technological dependency. For Home Movies, the work is presented at TechnoFix, a mobile phone repair shop with a front window display of broken phones. Photo by Jacob Giles.
19. Community Pop Up Space
195 Riddiford Street (beside New World)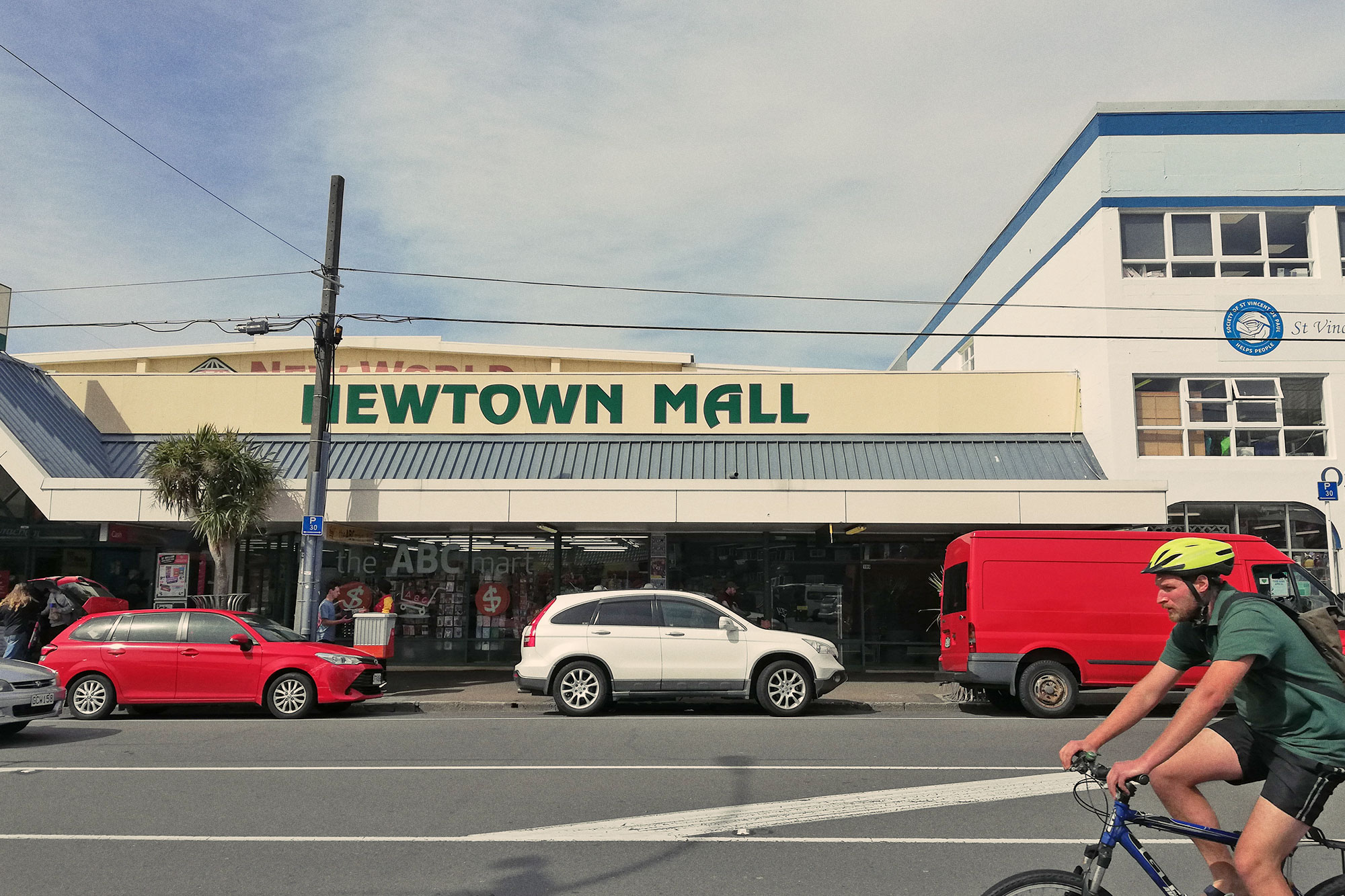 The Newtown Community Pop-Up Space was the venue for a group show of three works exploring themes of arrival and encounter. The Pop-Up space is a temporary community venue, offered on a month to month basis ahead of the Newtown Mall redevelopment. Previous events at the space included an African Food Market and a Jumble Sale. Photo by CIRCUIT.
Pop-Up Space Work 1:
Mauri Tū, The First Breath of Light
(2019)—Chevron Hassett
"(This work) visualises the sunrise over Te Moana Nui a Kiwi (The Pacific Ocean) at Rangitikuia, East Cape just North of Gisborne, into the lands of the Ngāti Porou. The light enlightens you of the past, as the warmth connects us to the past and the waves prepare you for the future." - Artist Statement. Photo by Jacob Giles.
Pop-Up Space Work 2:
biobitumen (2019)—Raewyn Martyn

Raewyn Martyn's
biobitumen
was one of three works commissioned by CIRCUIT as a response to Newtown itself.
biobitumen
began on the footpath outside the pop-up as a temporary installation, using bacterial polyester and finely ground greywacke pigment, melted into place on the pavement. Presented later inside the venue as a video and sculptural installation, the work referenced the settlement of Wellngton by both Mana Whenua and colonial Pākehā, who used aggregates of natural materials to form pathways and areas of foundation. Videography by Rachel O'Neill. Photo by Jacob Giles.

Pop-Up Space Work 3:
I have come and joined my love with yours(2017)—Aliyah Winter and Nathaniel Gordon-Stables

"The departure point for I have come and joined my love with yours is a transcription of a conversation between Governor Grey and Wiremu Tako Ngātata, or Wi Tako, (Te Ātiawa, Ngāti Ruanui) in 1896. The text is a translation of Wi Tako's account of events, originally dictated in te reo Māori. This work considers the politics of translation and conflicts of power through an interpersonal relationship." – Artist Statement. Photo by Jacob Giles.
20. Mechanical Tempest
228 Riddiford St
cardboard foundation (2019)—Louisa Beatty



Louisa Beatty critiques representations of nationalism through absurdity, humour and the mundane. Using kiwi ingenuity and a good ol' D.I.Y attitude, the artist creates a fountain-like structure out of discarded cardboard and running water. Mechanical Tempest is a community bike workshop open 6-8pm Mon-Wed. They exist "to rescue bikes and parts that would otherwise go to landfill, to promote cycling as sustainable transport and make it accessible for as many people as possible, and to provide an alternative to commercial bike shops." Photo by Jacob Giles.
21. Shoe School


247 Riddiford Street
Pātai/Maan Taai問題 (2019)—Arapeta Ashton & Wai Ching Chan

Arapeta Ashton & Wai Ching Chan consider shared histories of Maori and Tauiwi relationships within both historical and contemporary contexts in Aotearoa. Together they harvest harakeke, boil and dye it, and weave the strands of their shared histories together. The video documentation of this action shows them laughing together, centering a celebration of their friendship and collaboration. Wai & Arapeta's work is showing in the collaborative workroom of the Shoe School, a place where people come together to hand make shoes. Photo by CIRCUIT.
22. Domestic Bliss Textiles
261 Mansfield St
FOR THIRTY YEARS, NANCY WOULD SIT ON THE STREET CORNER AND WATCH THE SUNSET (2017)—Sam Hamilton

In Sam Hamilton's film a small group of teenagers were asked to replicate the daily ritual of an elderly neighbour, and sit on the street corner to watch the sunset. Domestic Bliss Textiles design and hand-screen prints on tea towels, pillowcases, tote bags and cooks' aprons. They are currently working towards the opening of a new shop at 261 Mansfield St. Amongst their 'style heroes' they include Andy Warhol, whose films, like Hamilton's, often explored duration. Photo by CIRCUIT.